I haven't been able to comment about the trip because there was nothing to report. This is the first trip we're using a travel agent and our experience has been really shoddy. Long story there, full of broken promises to deliver, but I'll just say that we fired our travel agent on Tuesday.
We now have a new travel agent and she is awesome! In just one day she's finalized 90% of the reservations for hotels and trains. Wow! I love her.
Our trip hinges on visiting certain friends in certain cities. We had to work backward from there so Mars and I came up with the following travel itinerary. Heavy on castle-seeing!
July 20:
Fly from San Francisco to Cologne, Germany
Stay with friends for 3 nights in Cologne. We'll mostly be recovering from jetlag and also visiting castles and taking a river cruise.
Rhine River and Cologne Cathedral
July 24:
Train to Nuremberg, Germany
Stay in hotel 1 night in Nuremberg, visit with friends who live in a nearby town. Nuremberg was my favorite German city when I visited Bavaria in 1995 so I'm excited to see it again!
Nuremberg
July 25:
Train to Munich, Germany
Stay in hotel 2 nights and take day trips either by train or rental car to nearby castles, including Sleeping Beauty's castle (Neuschwanstein Castle in Fussen)!

Neuschwanstein Castle

July 27:
Train to Lauterbrunnen area in the Alps above Interlaken
Stay 3 nights in a car-free alpine village, hiking during the days. There's an awesome family-friendly trail with playgrounds & zip-lines along the way called Children's Adventure Trail.
Lauterbrunnen, Switzerland
July 30:
Scenic train to Montreaux, Switzerland
Stay 1 night in Montreaux or Lausanne specifically so we can visit Chateau de Chillon on Lake Geneva.
Chateau de Chillon on Lake Geneva
July 31:
Train to Avignon, France
Stay 3 nights with friends in Avignon. They have offered their car so we can take day trips to the Mediterranean beaches, including Cassis.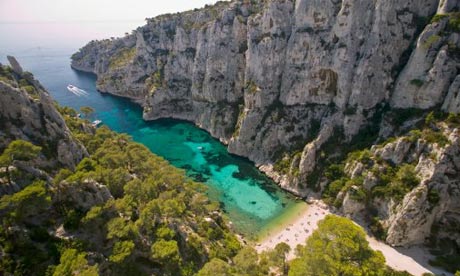 Calanque Beach in Cassis, France
August 3:
Train to Paris
Stay in hotel 4 nights in Paris. We'll visit the top of the Eiffel Tower, Versailles estate, Notre Dame, Luxembourg Gardens, Tuileries Garden (from Madeline books). I plan to eat well while there. My friend, who is a Francophile and lived for one year in Aix-en-Provence, has given me lists of restaurants to try and lists of items to order!
Paris
August 7:
Train to London
Stay at hotel 2 nights in London (but we'll be returning for 4 additional nights later). We have a ton of things on our agenda: Harry Potter walking tour, London Zoo, Princess Diana playground, Peter Pan statue in Hyde Park, London Eye, Tower of London, and other things I'm currently forgetting.
Tower of London
August 9:
Rental car to Stonehenge, then Bournemouth
Stay with friends 1 night in Bournemouth. Check out the English countryside and nearby English seaside towns.
Bournemouth
August 11:
Rental car back to London
Stay in hotel 3 nights in London. Wear ourselves out doing and seeing as much as the kids can tolerate.
August 13:
Train to Windsor
Stay 1 night in Windsor since it's near Heathrow airport, of course seeing Windsor Castle while there.
Windsor Castle
August 14:
Fly from London to San Francisco solo with the kids (Mars will stay a few more days to attend bike events with friends)
Then we'll be recovering from jetlag for a few days before the kids start school on the 19th... and Gümby will be starting kindergarten. It will be a big day in our family!
I am so excited I can hardly stand it!